WELCOME
to THE AFGHAN CHILDREN'S SONGBOOK PROJECT
Hearing your favorite childhood song usually conjures up memories of happy times. For a generation of Afghans, whose songs were intentionally eradicated by way and oppression, hearing a familiar childhood song is a much more powerful experience. Read More
Louise Pascale Awarded Champion of Education for Girls and Women in Afghanistan

CONGRATULATIONS to Dr. Louise Pascale, Afghan Children's Songbook Project, this year's Champions for Education in Afghanistan!
The CW4WAfghan (Canadian Women for Afghan Women) recently recognized Founder & Director of the Afghan Songbook & Literacy project, Dr. Louise Pascale, for the gift she has given to Afghanistan, and actually, to all of us – to our global musical heritage. She has given Afghan kids back their songs, and helped them discover the magic of music, a magic that when we find it young, can serve us all our lives.
CW4WAfghan are recognizing Louise's extraordinary contribution to education in Afghanistan, and awarding her our annual Champion for Education in Afghanistan Award. There is a reason the Taliban banned music. They know its power, and its threat to ignorance. Louise knows its power too, and she has harnessed it, as a tool for children's learning, and in the process, helped revive and preserve a proud part of Afghanistan's cultural history. The CW4WAfghan celebrate Louise.
TheThe purpose of the annual Champion for Education in Afghanistan Award is for CW4WAfghan members to recognize individuals who have given outstanding service to the cause of supporting education for girls or women in Afghanistan. The Award celebrates the many unsung heroes who have demonstrated a personal commitment to the human right to education. These inspiring role models help to spotlight the challenges and opportunities for women and girls pursuing education against great odds.
---
BBC Outlook
Giving Afghan Children Their Songs Back
American Louise Pascale collected Afghan children's songs when she was working in the country in the 1960s. After the Taliban fell, she decided to return to Afghanistan to reintroduce the songs. Read More | Podcast | Mp3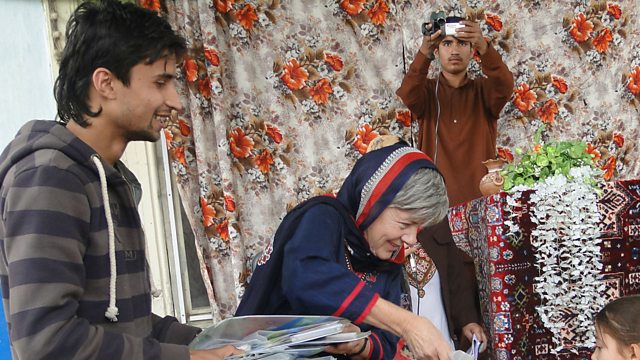 TEDX
"Being chosen to do a TEDx talk was an incredible honor. I was initially excited about the opportunity I was given and then realized the challenge I faced. I had to somehow narrow my message and all I wanted to share about Afghanistan, about the people, the music, the culture, the children and my Peace Corps experience, to a talk that would last no longer than 18 minutes. In the end, it was the stories from the Afghans themselves that helped me find the real story and the most poignant message; the story I hope resonates with each of you who watch the TED talk. The story is about the power music has to define us as individuals and as a culture. It touches our soul in a profound way and makes an extreme impact on each of our lives. I hope you enjoy the talk! Thank you for listening."
Louise Pascale, Founder and Director, Children's Songbook
---
New Book is here!
Second Children's Songbook "Awsaana See Saana" Distributed in Schools of Afghanistan
The second edition of the Afghan children's songbook, Awasana See Saana (One Tale, Thirty Tales) along with a Teacher's Guide, is finally completed and is being distributed to schools and orphanages across Afghanistan.
This edition has 16 more traditional children's songs in various ethnic languages of Afghanistan including Pashto, Dari, Uzbeki and Hazaragi. About 5,000 copies of the songbook and 2,500 copies of the Teacher's Guide will be distributed and once funding is secured, more will be printed. The songbook includes a CD and audio cassette tape, as well as a small notebook and 2 pencils. The Teacher's Guide includes 5-6 lesson ideas for each song, providing teachers with ways to use these delightful songs to strengthen reading and writing skills. Read More | Order Now
---
SONGBOOK NEWS!
Teacher's Guide
The Songbook Project continues to grow and expand and reach more and more children and teachers. The latest development of the Songbook Project is the creation of a Teacher's Guide. The Guide is designed to assist Afghan teachers in using the songs to teach basic reading and writing. Each songs has 6-8 creative ideas for teachers to use with their students.
In addition, all songbook packages that are distributed after May, 2011 will include the songbook, CD, cassette tape and a soft-cover notebook and two pencils. This will allow the children to improve their basic literacy skills while also enjoying singing their favorite childhood songs.
To date there are over 30,000 songbook packages distributed to children in schools, orphanages and women's centers across Afghanistan.